The 2018 Audi A8 is a large luxury sedan that has been fitted with a number of advanced technologies to deliver a dynamic driving experience. Audi has introduced two models of the sedan that are a basic model and L model, which offer different varieties to customers.
The new Audi A8 now looks more aggressive and stylish from front to rear. The exterior of the sedan exudes beauty from every angle that makes it instantly recognizable in the segment. It has top luxuries and ergonomic features in the cabin that provide a comfortable ride to the occupants.
Audi has introduced two powerful engine options in the 2018 A8 that are capable of generating enhanced power for a superior performance. The legendary Audi's Quattro All-Wheel Drive Technology now comes as standard on both models for a pleasant ride under all conditions.
It has been equipped with state-of-the-art technologies and advanced safety features that ensure a safe ride for the passengers in different driving conditions.
Here is a detailed review of the 2018 Audi A8 with a closer look at its design, performance, technologies, safety features and more.
Design of the 2018 Audi A8
The designers at Audi have exclusively designed the new A8 with fine materials that perfectly complement the unmistakable and iconic design of the sedan. The exterior of the vehicle makes a bold statement with its wide stance and athletic looks while the interior of the sedan is laced with luxuries to make the ride more comfortable.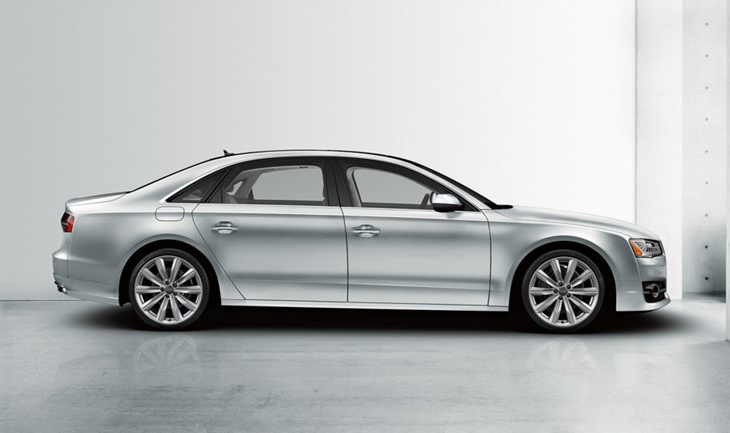 Exterior Design
The 2018 Audi A8 has an aerodynamic body that not only improves the performance, but also the fuel efficiency in different driving conditions. It has flowing lines and curvy edges on the body that provide it a striking look. The front fascia of the sedan has been fitted with the iconic Singleframe grille and on which the stylish Audi badge sits perfectly.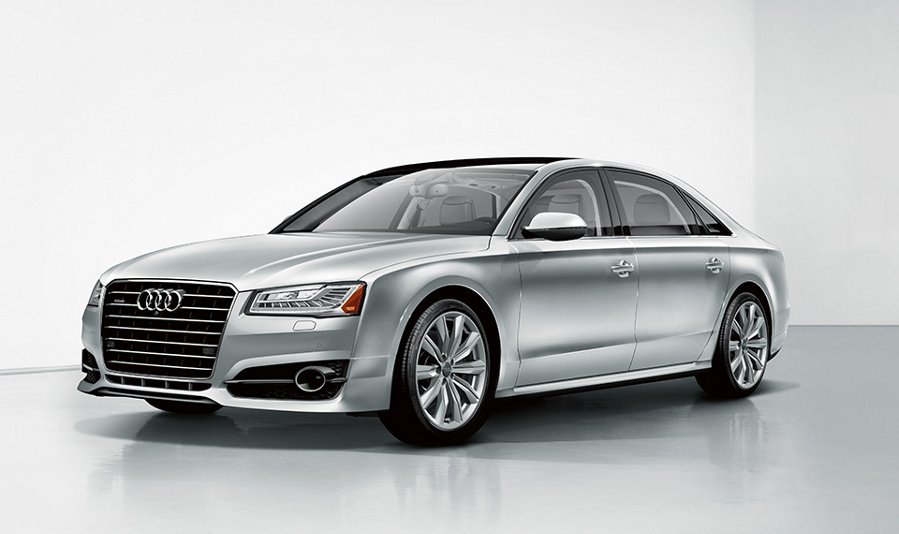 The rear side of the sedan features twin-trapezoidal exhaust outlets that produce a thrilling sound at top speed. It has large air vents on the lower side of the front bumper that reduce the air drag coefficient to a minimum for better stability. The sedan has power adjustable auto dimming heated exterior side mirrors that elevate the dominating profile of the exterior.
The 2018 Audi A8 features aluminum trim around exterior windows that make the exterior look purposeful. It has been fitted with automatic LED headlamps that augment the exterior profile of the sedan. It has LED taillights and rear fog lamps that enhance the view of the sedan for other commuters in unfavourable conditions.
It offers power trunk with hands-free release for enhanced convenience of the passengers. The new Audi A8 features a rear lip air spoiler that enables a smooth flow of air around its body for better aerodynamics. It has been fitted with 20-inch 5-spoke alloy wheels that provide a better grip on the road at all times.
Also read: 2018 Audi Q7 with Quattro All-Wheel Drive and V6 Engine Revealed
Interior Design
The interior of 2018 Audi A8 is ergonomically designed with fine materials and is a true example of Audi's craftsmanship. It has a spacious cabin that provides an ample headroom and legroom for up to 5 passengers. The cabin of the sedan features ambient LED interior lighting that elevates its luxurious appeal.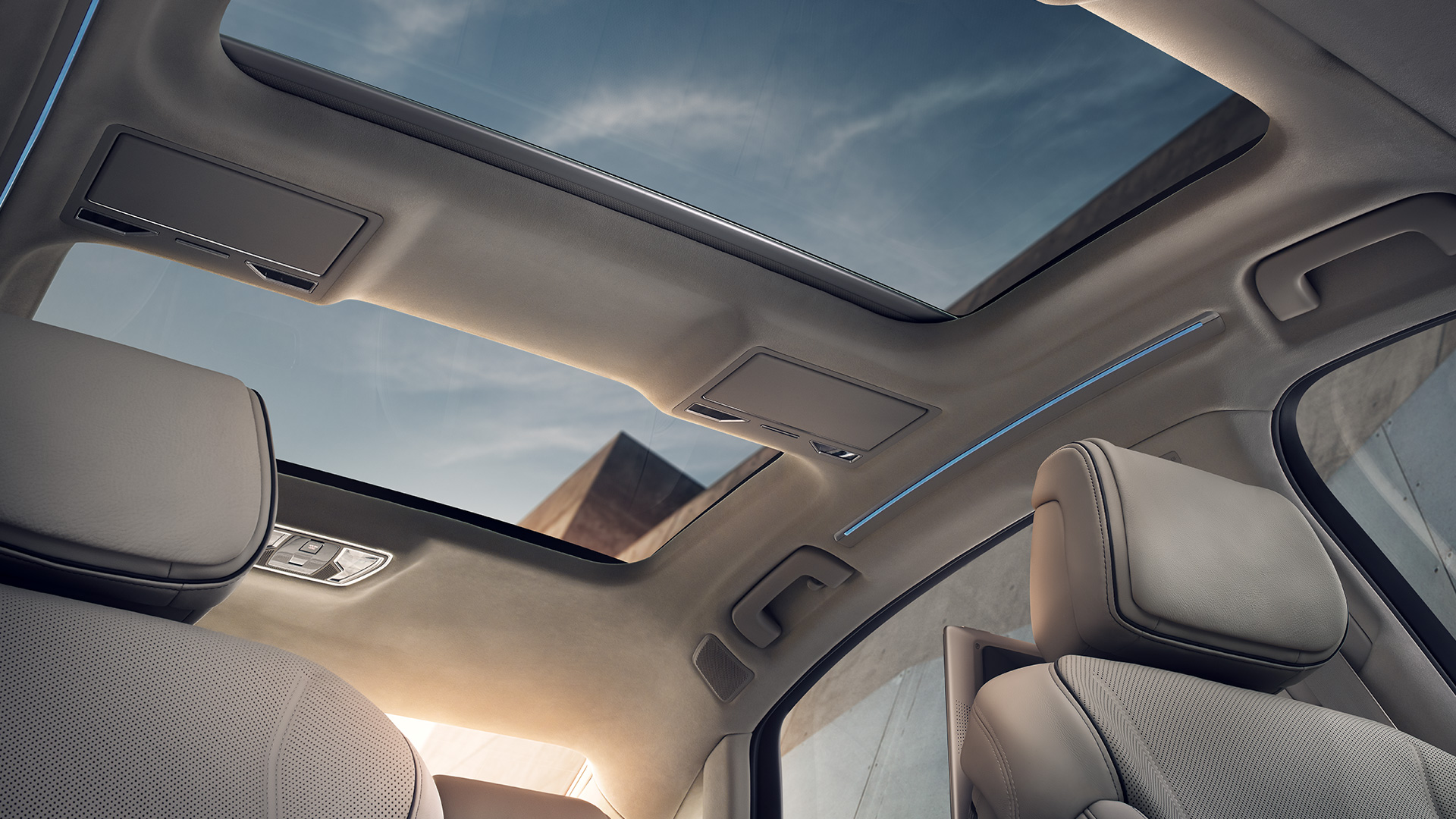 The available leather-trimmed seats are adjusted perfectly in the cabin of the sedan to make the ride comfortable for all occupants. It has standard 18-way power adjustable front seats with lumbar adjustment and Memory System for the enhanced convenience of the occupants. The front seats of the sedan come with heating feature that allows the driver and front passenger to set their preferred seating temperatures.
A four-zone Automatic Climate Control System comes as standard in the cabin of 2018 Audi A8 that maintains the temperature of the cabin as per preference of the passengers. The sedan has a four-spoke multifunctional steering wheel in the cabin that makes it easy for the driver to control its different functions without taking his/her eyes off the road. It has been fitted with a sunroof that provides extra headroom to passengers for a pleasant ride.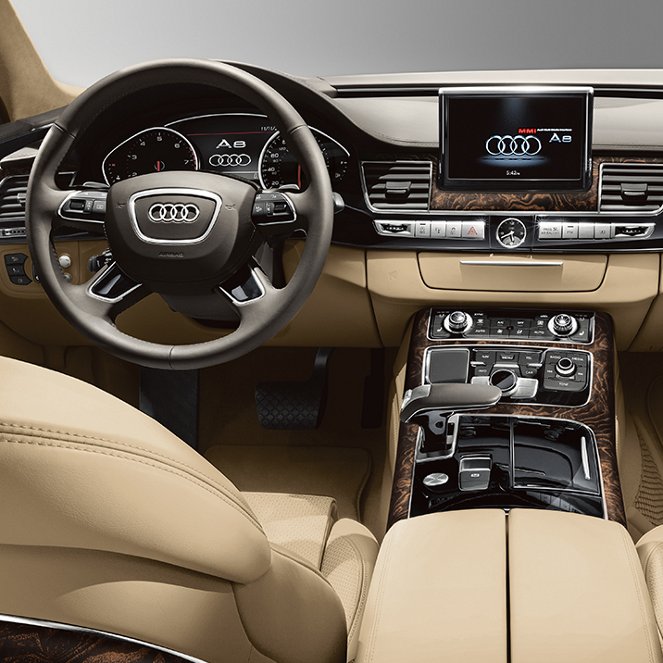 The 2018 Audi A8 L (Luxury) comes with more luxuries and ergonomic features for a more comfortable ride. It has a leather-trimmed cabin for a sophisticated look from every corner. It has been equipped with enhanced convenience features such as 22-way power front seats, panoramic sunroof, power rear sunshades, and leather-wrapped shift lever.
Let our AI technology take control of traffic jams, and take away the stress that goes with them. #Audi #A8 pic.twitter.com/Xwwly8ifez

— Audi UK (@AudiUK) November 6, 2017
Performance Attributes of the 2018 Audi A8
The all-new Audi A8 offers exceptional performance attributes for better comfort under any condition. It has been fitted with an Adaptive Independent Air Suspension with Electronically controlled Damper System that intelligently adjusts the sedan's suspension in different road conditions for a stable ride.
It now comes with Audi's legendary Quattro All-Wheel Drive Technology that efficiently distributes torque among the wheels of the sedan.
For a dynamic driving experience, the 2018 Audi A8 features Audi Drive Select System that offers four different driving modes. The available driving modes are Comfort, Dynamic, Auto, and Individual. It comes with two engine options that feature Mild Hybrid Electric Vehicle Technology and are paired with an 8-speed Tiptronic Automatic Transmission.
The 2018 Audi A8 is powered by a 3.0-litre turbocharged V6 engine that is capable of producing 333 horsepower and 325 lb-ft of torque. With this engine, the sedan can go from 0 to 60mph in just 5.5 seconds and has a top speed of 130mph. It provides a fuel efficiency of 19mpg in the city, 29mpg on the highway, and 22mpg combined.
The second engine option is a 4.0-litre turbocharged V8 engine that produces 450 horsepower and 444 lb-ft of torque. This engine features innovative Audi Cylinder on Demand Technology that efficiently deactivates four of its eight cylinders to reduce the fuel consumption by up to 10%. It has been fitted with an advanced Active Noise Cancellation System that eliminates the unwanted exhaust sound for a smooth driving experience.
This engine has a top speed of 130mph and has an acceleration of 0-60mph in just 4.4 seconds. It has a fuel efficiency of 16mpg in the city, 26mpg on the highway, and 19mpg combined.
Also read: 2017 Audi R8 V10 – A Luxury Sports Car with Muscular Performance
Technologies
Audi has introduced a number of advanced technologies in the new A8 that assist the driver and passengers in different driving conditions. A 7-inch color information touchscreen has been fitted in the dashboard of the sedan that allows the passengers to configure different available technologies.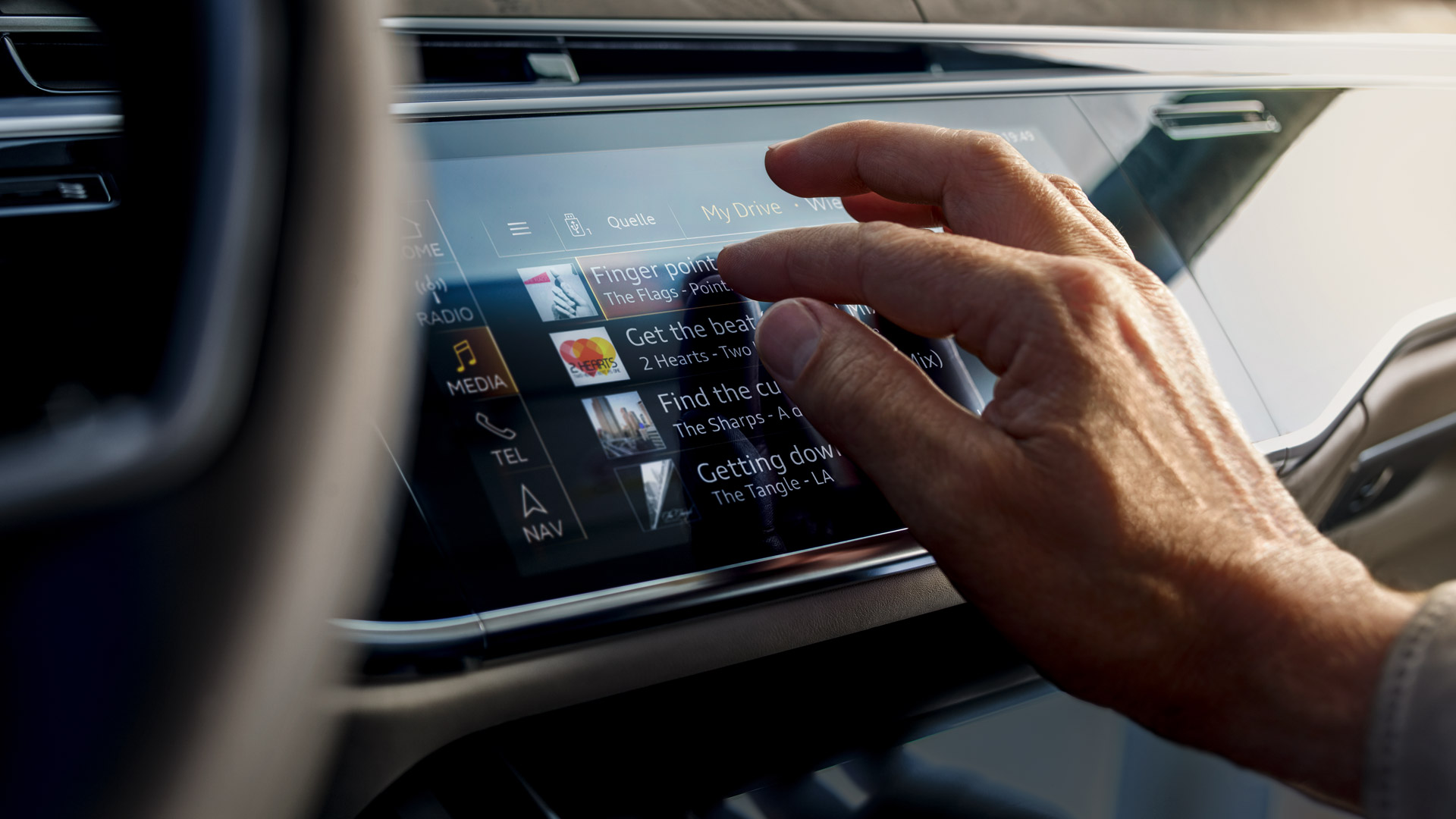 Some of the notable technologies of the sedan are:
MMI Touch with Handwriting-Recognition Technology
MMI Navigation Plus
Voice Control System
14-Speakers BOSE Surround Sound System
Audi Connect
SiriusXM Satellite Radio
HD Radio Technology
Cruise Control
Bluetooth
Parking System Plus
Rear View Camera
Advanced Keyless Entry
Four 12-Volt Power Outlets
It has following optional technologies:
Audi Music Interface
Top and Corner View Camera System
"Sophisticated, undemanding and full of technology," says Autocar. All we'd add is that it's ready for you now: https://t.co/khUtkuEQR1 pic.twitter.com/KZPKLwZOnT

— Audi UK (@AudiUK) October 24, 2017
Also read: 2017 Audi A3 Facelift Updated with New Features and Technologies
Safety Features of the new Audi A8
With modern-day safety features as standard, the 2018 Audi A8 is an ideal safe sedan to drive in different driving conditions.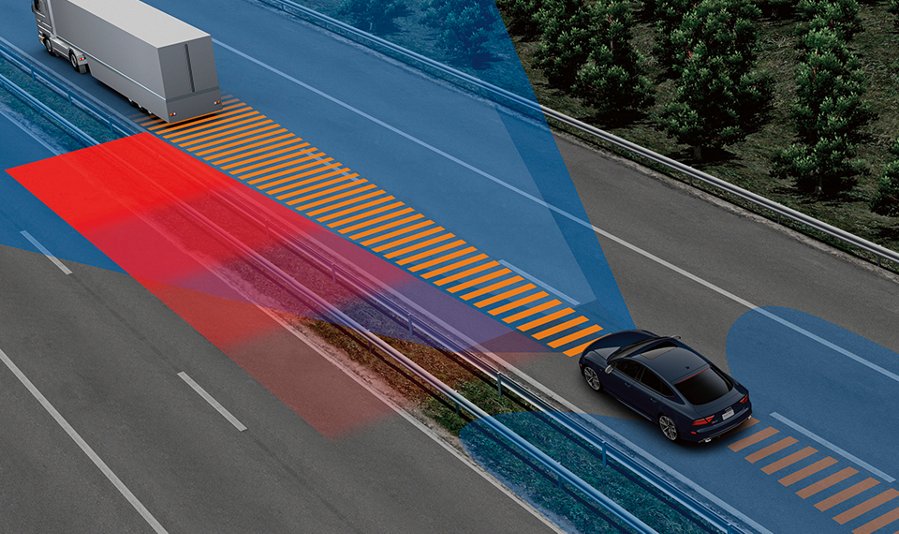 It has following safety features:
Multiple Airbags
Power Central Locking System
Tire-Pressure Monitoring System
LATCH System
Electromechanical Parking Brake
Ant-theft Alarm System with Immobilizer
Electronic Stability Control
Traction Control
Brake Assist
Electronic Brake-Force Distribution
Anti-lock Brake System
Secondary Collision Brake Assist
The optional safety features include:
Head-up Display with Navigation Information
Audi Side Assist
Audi Pre Sense Assist
Audi Pre Sense Plus
Audi Adaptive Cruise Control
Audi Active Lane Assist
Price and Availability in the UAE
The 2018 Audi A8 has already been introduced in the UAE car market at different prices. The 2018 Audi A8 (3.0-litre) has an expected starting price of AED 347,000 and the expected initial price of the 2018 Audi A8 (4.0-litre) is AED 430,000.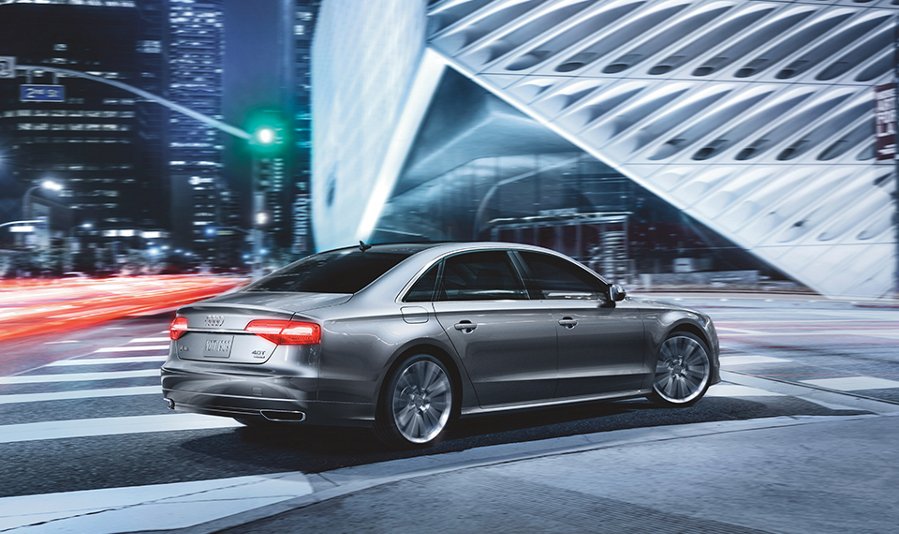 Planning to sell your old car then BuyMyLuxuryCar.com can be the right place to sell your used car. Get a free valuation of your car for sale to know the best price of it.